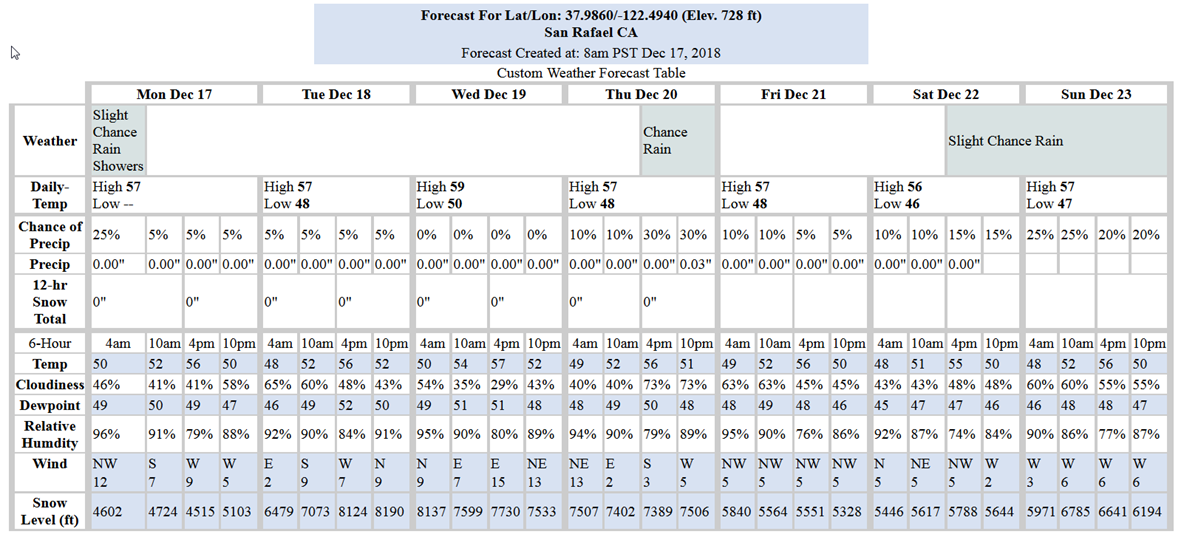 No rain the immediate area is expected until late afternoon Thursday.  But it's not expected to produce very much precipitation.  Then there should be another break until late Saturday night with more light rain expected.
The King-tide season is upon us as peaks at the Golden Gate Bridge are predicted to reach 6.9-ft by Sunday morning, and then trend downward.  Between now and then there is a gradual rise in peaks over 6-feet starting on Wednesday around 8:30AM.  None of the storms this week should have an impact on drainage facilities during the high tides as not much precipitation is predicted.  Low lying areas prone to tidally influenced flooding may see some water level rise late this week.
Existing models continue to show about a 50% probability of above average wet conditions for December and January, but a warmer than average and dryer for February through April.
Weather Websites of interest:
https://forecast.weather.gov/MapClick.php?lat=37.9746&lon=-122.5325#.Wbah2saQy3c
https://www.cnrfc.noaa.gov/ol.php
https://www.ssd.noaa.gov/goes/west/weus/flash-wv.html
https://tidesandcurrents.noaa.gov/noaatidepredictions.html?id=9414290&units=standard&bdate=20181119&edate=20181125&timezone=LST/LDT&clock=12hour&datum=MLLW&interval=hilo&action=dailychart