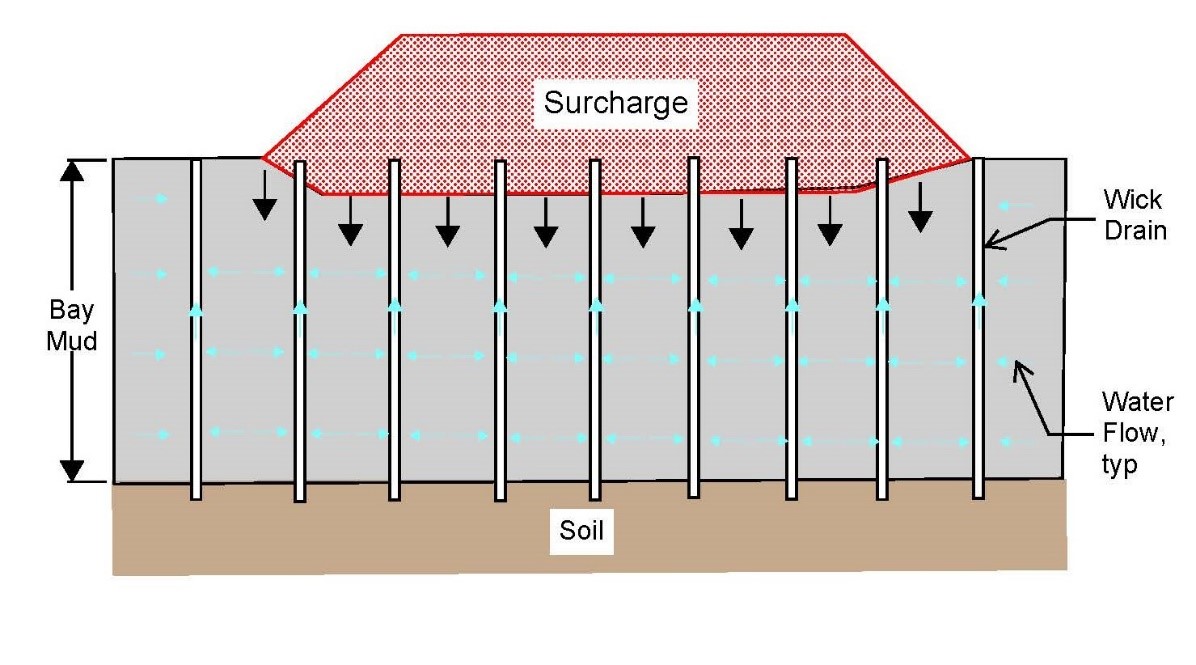 The City of San Rafael, Department of Public Works is actively reviewing an application for a grading permit to surcharge or "preload" the 1075 Francisco Boulevard East property in preparation for construction of the proposed Hilton Hotel. The surcharging is required due to challenging soil conditions that exist below the property, specifically the presence of Bay Mud. The surcharging process involves the installation of wick drains and placing approximately 20,000 cubic yards of imported soil to preload the site prior to constructing the new hotel structure.
The soil surcharge will be approximately 13 feet high and is expected to remain in place for approximately 10 months. The project site will be monitored to track the progress of the surcharge. When the project's geotechnical engineer determines the required preloading has been achieved, the 20,000 cubic yards of fill will be exported from the site, and foundation construction for the proposed hotel can begin.
During the surcharge which is expected to start October-November 2021, the area will witness a significant increase in truck and hauling activities. Staff has been working with the applicant team to designate the proper routes, control dust and manage the arrival and staging of materials. The infrastructure surrounding the site will be monitored throughout the duration of the surcharging activities by the project geotechnical engineer and DPW engineering staff.
Matt Pepin, Associate Civil Engineer              (415) 485-3158
Megan Kelly, Junior Engineer                               (415) 485-3454