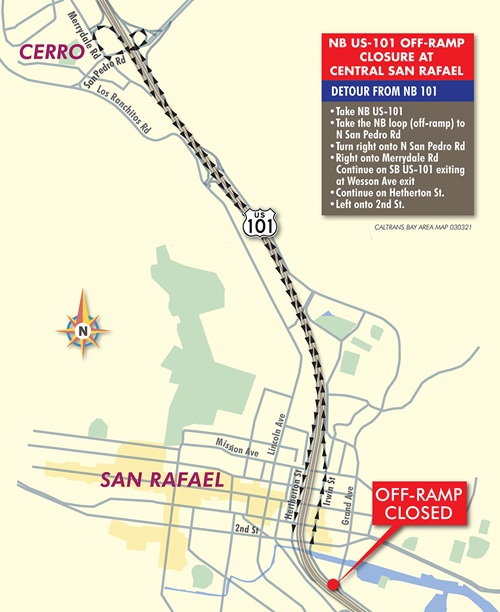 On Friday, August 13th, the California Department of Transportation (Caltrans) will be closing the Highway 101 Northbound Central San Rafael off-ramp at night.
The schedule has been changed. The proposed schedule has been updated and the off-ramp will now be fully closed from Friday, August 13 at 9:00PM until 9:00AM the following morning. Caltrans is planning on returning the off-ramp to regular operation by 9:00AM Saturday, August 14th.
Motorists are advised to plan routes accordingly. Please note: these proposed schedules are subject to change. For updates and more information, please visit the Caltrans project website and the City's project website.
For 24/7 traffic updates, follow 511.org. For real-time traffic, visit the Caltrans QuickMap.
For questions and inquiries, please contact Caltrans Brach Chief, RocQuel Johnson at caltrans_d4@dot.ca.gov or (510) 501-0446.