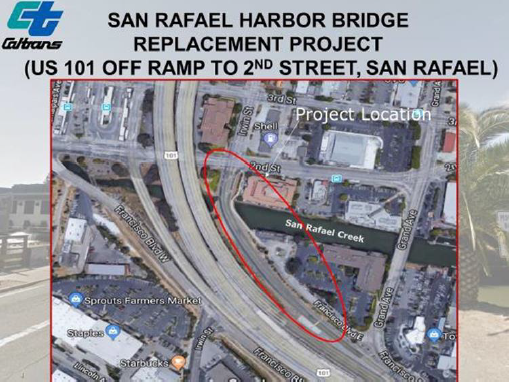 Lane Closure, Full Ramp Closure Expected Overnight as 101 NB Central San Rafael Harbor Bridge Replacement Continues Monday, Marin County
Lane closure July 18 through July 20, each night Full off-ramp closure July 20 through July 23, each night.
SAN RAFAEL — Caltrans is continuing the Harbor Bridge Replacement Project this month (July) on the northbound 101 off-ramp to Central San Rafael, Marin County. The project started in February 2021, and on Dec. 11, 2021, was suspended due to environmental regulations for in-creek work.
A nightly lane closure will resume Monday, July 18 through Wednesday, July 20 from 9 p.m. until 7 a.m. each night. Upon exiting the Central San Rafael off-ramp, one lane (out of three) will be closed during construction; the other two lanes will remain open at all times.
There will be a full off-ramp closure of the Central San Rafael exit from Wednesday, July 20 through Saturday, July 23 from 9 p.m. until 7 a.m. each night.