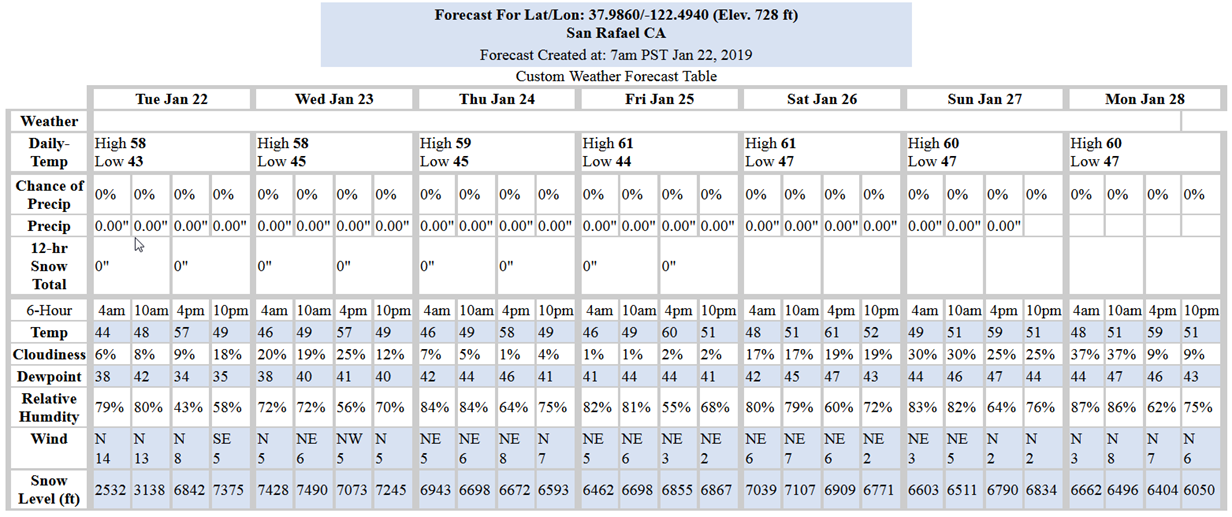 Synopsis:
There is a high pressure that will bring dry and tranquil weather to the area for the rest of this week and through the upcoming weekend.  This dry pattern may last through the end of the month with mild days and cool nights.
For long-range forecast though February-March-April the NWS prediction models are still indicating below normal precipitation with above normal temperatures.
Tides:
Although on a downward trend on the peak highs, tides this week are high.  Yesterday peaked at 7.17-ft.  Today, a peak of 6.89-ft at 11:49 is slightly lower, but still high enough to potentially cause tidally-influenced flooding in low-lying areas near the bay.  Note that these predictions are for the Golden Gate Bridge tide gage.  At specific locations throughout the north bay, peak times will be later and heights may vary, but typically not by much.

Weather Websites of interest:
https://forecast.weather.gov/MapClick.php?lat=37.9746&lon=-122.5325#.Wbah2saQy3c
https://www.cnrfc.noaa.gov/ol.php
https://www.ssd.noaa.gov/goes/west/weus/flash-wv.html
https://tidesandcurrents.noaa.gov/noaatidepredictions.html?id=9414290&units=standard&bdate=20181119&edate=20181125&timezone=LST/LDT&clock=12hour&datum=MLLW&interval=hilo&action=dailychart