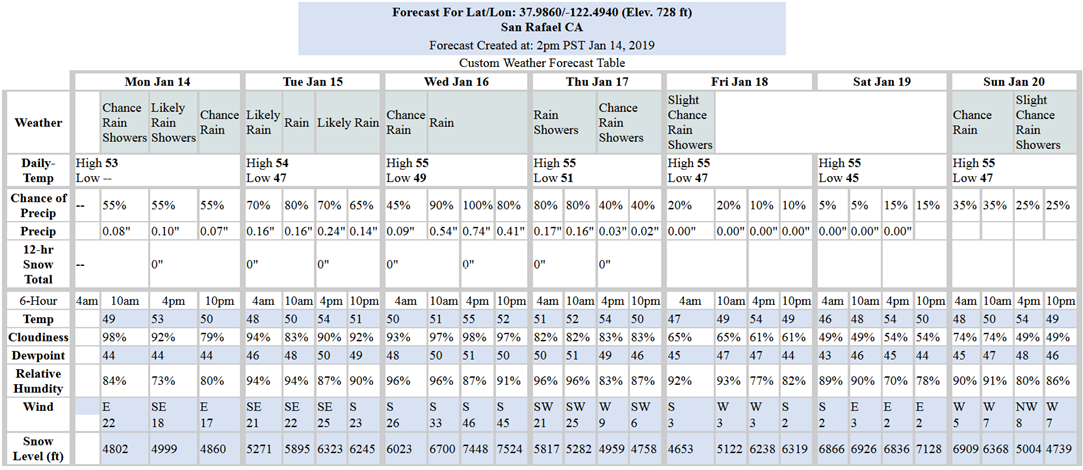 Synopsis
Periods of light rain and locally gusty southeast winds will continue today through Tuesday as multiple systems pass through the region. A stronger and more organized cold front will arrive Wednesday afternoon and evening with heavy rain and strong winds. Showers linger on Thursday with a drying trend Friday and Saturday before another chance of light rain on Sunday.
There is a hazardous weather outlook posted by the NWS for gusty winds and the possibility of flooding in small streams Wednesday afternoon/evening:
https://forecast.weather.gov/showsigwx.php?warnzone=CAZ506&warncounty=CAC041&firewxzone=CAZ506&local_place1=2%20Miles%20WSW%20San%20Rafael%20CA&product1=Hazardous+Weather+Outlook&lat=37.9746&lon=-122.5325
Tides:
High tides may be of concern if these upcoming storms induce a residual increase, as is usually the case.  Peak tides of concern are 5.9-ft Wednesday morning and 6.23-ft Thursday morning (see tide chart below).  There is a 7.02-ft peak predicted for Sunday morning, but there shouldn't be much of a residual.  Note that these predictions are for the Golden Gate Bridge tide gage.  At specific locations throughout the north bay, peak times will be later and heights may vary, but typically not by much.
For long-range forecast though January-February-March the NWS prediction models are still indicating below normal precipitation with above normal temperatures.
7-Day Predicted Tide Table:

Weather Websites of interest:
https://forecast.weather.gov/MapClick.php?lat=37.9746&lon=-122.5325#.Wbah2saQy3c
https://www.cnrfc.noaa.gov/ol.php
https://www.ssd.noaa.gov/goes/west/weus/flash-wv.html
https://tidesandcurrents.noaa.gov/noaatidepredictions.html?id=9414290&units=standard&bdate=20181119&edate=20181125&timezone=LST/LDT&clock=12hour&datum=MLLW&interval=hilo&action=dailychart