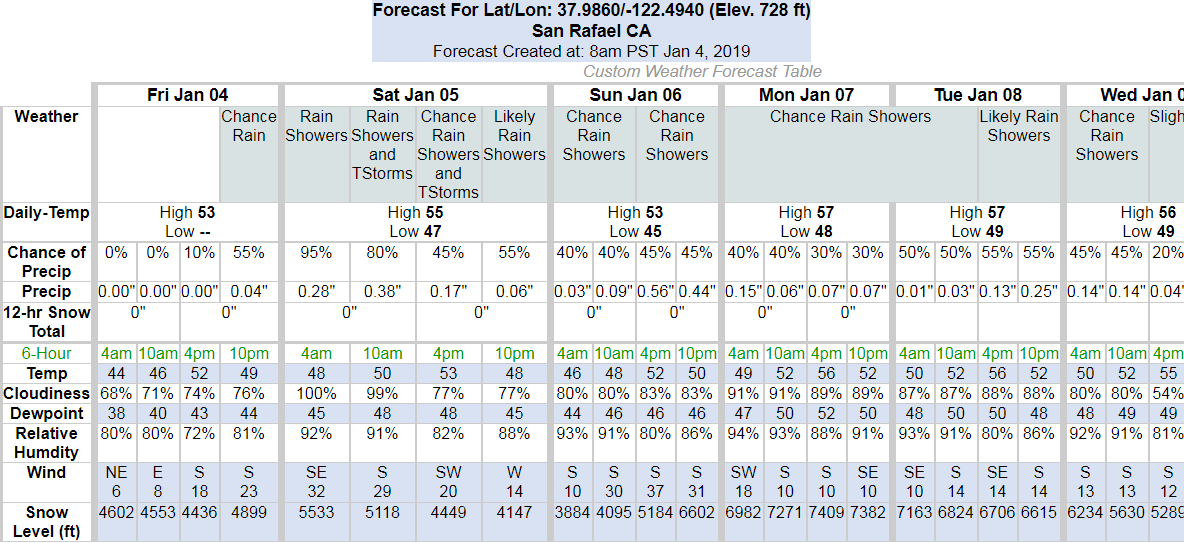 WIND ADVISORY
The National Weather Service in San Francisco has issued a Wind Advisory, which is in effect from 4 AM to 4 PM Saturday, January 5.
Southerly winds of 20 to 30 mph with gusts up to 45 mph, with gusts up to 60 mph in the highest peaks and ridges. Winds will increase late tonight and peak in intensity early Saturday morning. Gusty winds will gradually subside Saturday afternoon and evening.
A Wind Advisory means that winds of 35 mph are expected. Difficult driving conditions, blowing debris, down trees or tree limbs. Isolated power outages are possible. Use extra caution.
SYNOPSIS
Dry weather conditions and seasonably cool temperatures will continue today. A major pattern shift will bring widespread rainfall, strong gusty winds and possible thunderstorms to the area late tonight into Saturday. Lingering showers will continue through the weekend with another frontal system forecast by the middle of next week.
As of 3:23 AM Thursday
High clouds moving in across northern California are moderating temperatures somewhat, especially in the North Bay where clouds are thicker. Current temperatures are running several degrees warmer than yesterday at this time and are in the mid 30s to mid 40s.
Saturday Night
An approaching storm system will begin to impact the area late tonight into Saturday. We can expect widespread rainfall as well as locally strong winds beginning late tonight and continuing into Saturday with this first storm. The North Bay could see rain starting by late tonight, mainly along the coast. The main frontal band is then forecast to move through Saturday morning, with gusty southerly winds ahead of and with the front, and widespread rainfall. Winds will become westerly by the afternoon, with residual showers persisting into Sunday morning. Southerly winds are forecast to ramp up ahead of and with the front, with gusts in the 30-40 mph range, with stronger gusts possible in the hills. Timing of the strongest winds will likely be Saturday morning Rainfall estimates with this system give around 2-3″ in the coastal ranges with locally higher amounts in the North Bay Mountains, with 0.50-1.50″ totals expected in the lower elevations through Sunday.
Check out San Rafael Storm Preparedness page for more weather updates, sandbag locations, and more!
Weather Websites of interest:
https://forecast.weather.gov/MapClick.php?lat=37.9746&lon=-122.5325#.Wbah2saQy3c
https://www.cnrfc.noaa.gov/ol.php
https://www.ssd.noaa.gov/goes/west/weus/flash-wv.html
https://tidesandcurrents.noaa.gov/noaatidepredictions.html?id=9414290&units=standard&bdate=20181119&edate=20181125&timezone=LST/LDT&clock=12hour&datum=MLLW&interval=hilo&action=dailychart